Alfa Romeo GT Supercharger Kits
When it comes to tuning, enough is never enough; and that's the case with Autodelta and its 341Hp strong, front-wheel drive Alfa GT 3.2 Super Evo (2005).
The London-based tuning house increased the capacity of the 3.2-litre V6 supercharged engine to 3.7-litre. While they where at it, they also threw in a new Rotrex C38-81 centrifugal supercharger. The result is a maximum output of 405Hp and 375 lb/ft of torque.
Model
HP ​
Alfa Romeo GT (Charger: C30-94)
240 > 340
Alfa Romeo GT (Charger: C38-81)
240 > 405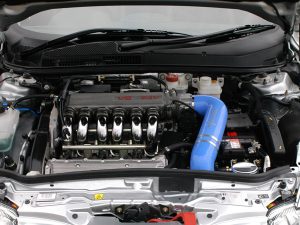 We're pleased to present the most dynamic and powerful version of the Alfa GT Coupé yet – the 405 bhp supercharged Autodelta GT 3.7 Super. This car builds on the market success of the 320 bhp GT 3.2 Super (2004) and the 341 bhp GT 3.2 Super Evo version (2005), by pushing the Alfa V6 engine and chassis package to even more extreme performance levels – achieved without compromising practicality and drivability. The car sees the 3.2-litre engine's capacity increased to 3.7-litre, coupled to the addition on the space-efficient Rotrex C38-81 centrifugal supercharger. The result is maximum power of 405 bhp and 375 lb/ft of torque.
Autodelta's engine has been endowed with extra power and grunt by the addition of a space-efficient, centrifugal Rotrex supercharger, with intercooler, running its own oil feed system and additional oil cooler independent from the engine.
Choosing to adopt the Rotrex supercharger is the result of two and a half years of durability and reliability testing of the unit in a wide range of Autodelta Alfa Romeo models.
In order to match fuelling and ignition timing, the factory ECU has been remapped, and the installation has in-built safety features to control boost levels.
Rotrex superchargers are renowned for their compact size, high adiabatic efficiency, low vibration, and quiet operation. Their unique traction drive technology is what makes all of this possible, which, unlike other superchargers, transmits power through frictional forces between its rolling elements.
Installation at Autodelta London and Clubsport Holland.