Aston Martin V8 Vantage Supercharger Kits
Each Aston Martin supercharger system includes all necessary components to ensure safe, reliable operation. Our distributors have developed kits for the following models:
Model
HP ​
Aston Martin V8 Vantage
385 > 605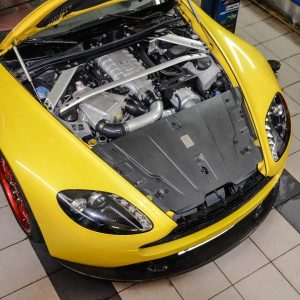 Several hours of dyno and road testing fine-tuned the ECU to give reliable high performance drivability.
We have installed the Rotrex C38-92 centrifugal supercharger to Aston Martin Vantage V8 4.3 liters which produces in NA state from the factory around 415hp.
The setup includes a water intercooler/ water radiator/ bigger fuel injectors and bypass valve. Tuning done on stock ECU by own bin-file editor EcuBooster.
At the first stage it was tuned with max boost 0.5 bar and got 600+ hp, then a bit smaller pulley installed to get more low range torque.
But to avoid too much for stock internals and pump gas boost we should close DBW throttle after 5000 rpm.
Finally, we filled high octane gas and tuned ECU with full open throttle on 0.8 bar, and got almost 660 hp
The Rotrex C38-92 with an in-house made Water/Air charge cooler produce a  massive torque of 720Nm and 605hp.
The original strong internals of the engine operate safe and reliable with 0,5b of boost, and larger injectors and a reprogrammed ECU secure enough fuel for the higher performance.
Result after Rotrex supercharger kit:
| | | | |
| --- | --- | --- | --- |
|  HP |  RPM |  Nm | RPM |
|  385 > 605 |  7000 > 6500 |  410 > 720 |  5000 > 5700 |