Daihatsu Esse Supercharger Kits
Each Daihatsu Esse supercharger system includes all necessary components to ensure safe, reliable operation. Our distributors have developed kits for the following models:
Model
HP ​
Daihatsu Esse (Stage I)
57 > 73
Daihatsu Esse (Stage II)
57 > 98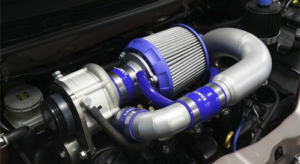 Get stress-free acceleration from low revs to torque up and high revs. Smooth power and flat torque up to high rpm, without turbo lag and torque valleys found in light turbo cars.
We promise acceleration that overturns the conventional wisdom of mini vehicles.
Completely bolt-on vehicle inspection compatible type. Uses aluminum piping and silicone hose to dress up and reduce weight. The intake resistance is reduced by adopting the air impulse.
Maintenance is only oil change and filter change (oil change time: 2 years or 20,000 km). The charger itself comes with a 2-year product warranty after purchase.
This kit is for L235S only. (Cannot be installed on KF engines of other models.) Please check the vehicle model before ordering.
Be sure to use high-octane gasoline as fuel.
Use the engine oil for turbo (10W40 / 15W50).
Please use the plug with the heat value of No. 8 or the plug for turbo.
(DENSO part number SXU22HPR9 genuine part number 90048-51198-000)
The kit is for normal vehicles only. If you are modifying it, you may need to process or reset it. Please contact us before purchasing.
We got a "STEP-UP kit" for upgrading a vehicle already equipped with the Stage I kit to the Stage II kit.