Ford Zetec Supercharger Kits
| | |
| --- | --- |
| ​HP | Charger |
| – > 330 | C30-94 |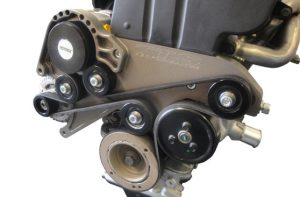 DIY ENGINE KIT
TTS are proud to announce its new supercharger kit to fit on the ford 2.0ltr Zetec engine (black top). after extensive cad design and testing we are pleased to be able to offer these high quality kits available for fitment of the Rotrex C30 range of supercharger for both front engine and mid engine applications.
These kits are available either as a mechanical kit only for customers who already have there own engine management and engine ready installed to there vehicle, or TTS can offer a complete turnkey package consisting of the mechanical supercharger kit coupled with an Omex 600 ecu, wiring harness and everything needed to supercharge your engine (please note that these kits do not include any form of inter-cooler or pipework etc, although TTS can undertake bespoke design and fitment solutions at our Silverstone based workshops. quotations are available on request)
These kits can be supplied in two main power output options:
Low boost kit; supplied with a C30-74 supercharger this kit is designed for fitment to a standard 2.0ltr Blacktop engine and will produce in the region of 220bhp.

High boost kit; supplied with a C30-94 supercharger this kit is designed for fitment to a modified engine capable of running higher power levels. an engine of this spec would typically include forged con rods and lower compression forged pistons. power outputs of up to 400bhp can be obtained with the correct supporting modifications.
The Ford DIY Zetec kits are offered by these kit builders:
Please contact them directly by interest.

PARTS LIST
Our mechanical kits consist of the following parts:
C30 rotrex supercharger CNC billet aluminium mounting bracket brand new alternator drive belt CNC billet aluminium idler pulleys manual belt tensioner block full nut and bolt fitting kit detailed instruction manual
PRICE
£2846 +vat