Honda CR-Z Supercharger Kits
Each Honda CR-Z supercharger system includes all necessary components to ensure safe, reliable operation. Our distributors have developed kits for the following models:
| | |
| --- | --- |
| Model | HP ​ |
| Honda CR-Z, LEA MF6 (1.5cc IMA) | 114 > 138 |
| Honda CR-Z | 138 > 190 |
| Honda CR-Z (ZF1, only 6MT) | 114 > 138 |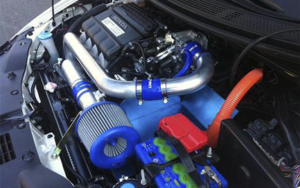 World-leading Supercharger experts Jackson Racing are proud to announce their next generation supercharger system for the Honda CR-Z has been granted a California Air Resources Board Executive Order and is legal for use in pollution controlled automobiles in the state of California.
"We've worked very hard this past year to develop an bolt-on supercharger system for what is one of the world's cleanest PZEV vehicles. Our supercharger system includes Hondata ECU calibration and larger fuel injectors, and we are able to pass the strict AT-PZEV emissions standard. It was a challenge, but it is great to have a mean and clean package. This is the future of performance tuning!" says Oscar Jackson Sr., President and Chief Engineer of Jackson Racing.
The CARB EO# D-700 covers 2011-2012 "Factory Tuned" and "FlashPro Tuner" CR-Z supercharger systems for both 6-Speed Manual and CVT models.
The power and torque delivery of the Jackson Racing CR-Z is perfectly balanced with the Honda IMA hybrid system to provide a smooth, strong and sporty power delivery that will make you fall in love with your Honda again.
The supercharger kit delivers an additional 50 horsepower and 45 ft-lbs of torque, an impressive 40% increase HP and 38% increase in torque.
All while maintaining the excellent fuel economy expected from the CR-Z Sport Hybrid.
The Jackson Racing CR-Z supercharger system has been through extensive durability testing to ensure factory drivability is retained, while giving a substantial boost in performance.
This testing includes track time by seasoned drivers, taking the car and supercharger system to the limit. The Jackson Racing CR-Z attended Super Lap Battle 2011, and on its first try broke the current Hybrid record by almost 6 seconds.
"We realize that performance tuning for the next generation of Hondas requires maintaining excellent fuel economy and adapting to new technologies," said Oscar Jackson Sr., President and Chief Engineer of Jackson Racing. "The Jackson Racing CR-Z supercharger system embodies the best of our 30+ years of experience in building quality performance upgrades for Honda and Acura automobiles."
Key Points:
An additional 50 hp and 45 ft-lbs torque
Maintains excellent fuel economy when driven normally
Restores the performance "Honda" engine feel
Works in harmony with Honda's IMA hybrid system
System Includes:
Rotrex C30-74 Supercharger
Jackson Racing Precision CNC-machined Components
Jackson Racing Belt Drive and Tensioning System
Jackson Racing Intercooler System w/ Aluminum Piping
High Quality Metric Fasteners and Hardware
Color Installation Manual
Industry Leading Customer Service and Support