Honda Fit Supercharger Kits
Each Honda Fit supercharger system includes all necessary components to ensure safe, reliable operation. Our distributors have developed kits for the following models:
| | |
| --- | --- |
| Model | HP ​ |
| Honda Fit | 92 > 121 |
| Honda Fit | 101 > 158 |
| Honda Fit (GD3) | 110 > 170 |
| Honda Fit (GE8) | 120 > 156 |
| Honda Fit (Automatic) | 83 > 110 |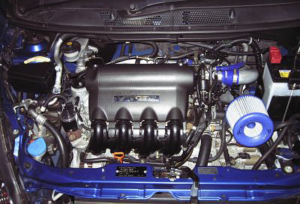 The KraftWerks' Honda Fit Supercharger Kit, features the remarkable and proven C15-60 Rotrex supercharger, Hondata engine management and a comprehensive intercooling solution.
The KraftWerks Honda Fit kit provides has everything needed for a trouble-free, bolt-on installation.
If you are a fan of the late model B-Segment cars, you probably feel like us that the Honda Fit is one of the best of the breed.
It certainly has the best handling. However the cars in this segment are pretty anemic and the amount of truly effective performance parts for these drivelines has been lacking. Well now things have changed as KraftWerks is pleased to release their new Supercharger kit for the Honda fit.
If you didn't know, KraftWerks is the brain child of supercharger guru and long time veteran master Honda tuner Oscar Jackson. If you know Oscar like we do, you can be confident that these are complete and well engineered kits.
KraftWerks' Honda Fit High-Boost Supercharger Kit measures in at 163.7 whp and 132.2 lb-ft torque at 10 psi. The dyno sheet reveals horsepower and torque gains throughout the powerband.
The kit pumps out an Impressive 164 whp and 132 lb/ft of torque at 10 psi for the first-generation ('07-'08) Honda Fit.
The KraftWerks kit come complete with an under-hood intercooler, cowl induction kit and Hondata engine management. KraftWerks supercharger system promises reliable, turn-key horsepower in both daily driving and track day performance.
Forced induction of late model motors without proper engine management using regulators and other bandaids is risky business but KraftWerks solution is complete.
They called upon the engineers at Hondata to tailor the Fit's ECU to high-boost duties. The ECU's fuel and ignition maps have been calibrated to the kit's RC Engineering 310cc fuel injectors making a true plug-and-play solution that's safe, reliable, and functions with the stock header/catalytic converter combo or any number of full-race exhaust manifolds. Hondata also lowered the VTEC window for improved driveability, removed the speed limiter, and raised redline to 7,100 rpm.
The result is the perfect compromise between daily driving and track performance. Hondata's Honda Fit ECU reflash is available exclusively through KraftWerks and is currently the only Fit tuning solution available.