Honda Stepwgn Supercharger Kits
Each Honda Stepwgn supercharger system includes all necessary components to ensure safe, reliable operation. Our distributors have developed kits for the following models:
| | |
| --- | --- |
| Model | HP ​ |
| Honda Stepwgn (K20A) | 155 > 225 |
| Honda Stepwgn (RG1) | 155 > 225 |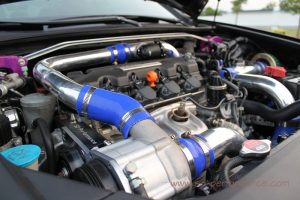 Rotrex centrifugal supercharger kit for your Honda vehicles.
Torque UP / 70ps UP in the whole area! -Compatible with vehicle inspection.
Easy installation by complete bolt-on
No need for troublesome installation of exhaust manifolds, intake manifolds, etc.
Fuel adjustment uses the attached injector-P-con A (data installed)
Excellent in all areas from idle to high speed Quiet performance, compressor shape, turbo type that is most suitable for supercharging air
Smooth power up to high rotation / flat torque, aluminum piping, silicon hose for dress-up, weight reduction, maintenance
Oil change / filter change only (oil change time: 2 years or 20,000 km)
This product is a KIT exclusively for RG1 / RG2 / RG3 / RG4 & RK1, RK2.
– Please contact us for RK system. The contents of the kit may differ depending on the vehicle model, so please check the vehicle model before ordering.
Processing at the time of installation; Subcontractor wiring processing is required.
Be sure to use high-octane gasoline.
Please raise the heat value of the plug to No. 7.
Use the engine oil for turbo (10W40 / 15W50).
The Honda Stepwgn kits are offered by this kit builder:
Please contact them directly by interest. (Click logo to visit)


(local customers from Japan only)
The kit includes:
Rotrex supercharger unit
Bracket
S/C Pulley
P/S pulley
Tensioner pulley
P/S/W pulley
P-con A (subcontractor)
Injector Oil filter
Oil reserve tank
Silicon hose
Traction oil
Oil hoses
Pipes
Oil cooler
Others: Bolts, nuts, V-belts, collars, clips, nipples, adapters, various stays, various brackets, hose bands, etc.