Hyundai Genesis Coupe Supercharger Kits
Each Hyundai Genesis Coupe supercharger system includes all necessary components to ensure safe, reliable operation. Our distributors have developed kits for the following models:
Model
HP ​
Hyundai Genesis Coupe (Stage I)
252 > 400
Hyundai Genesis Coupe (Stage II)
252 > 450
Hyundai Genesis Coupe (V6 GDI)
300 > 420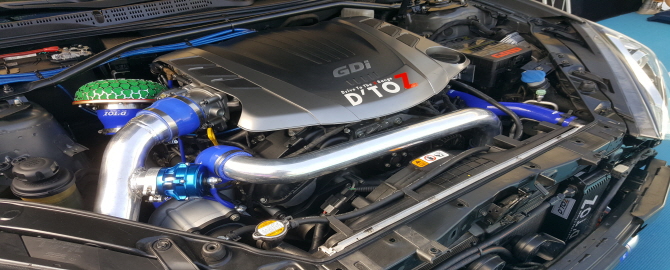 Supercharger conversion comfortably outperforms all other supercharger conversions on the market today. A Rotrex supercharger will give you storming power for your Hyundai Genesis Coupe.
No other kit out there comes close for quality or performance.
Hyundai Genesis Coupe was sold with a very competitive price in USA. Therefore this very reliable and underpowered car is ideal for boosting. Especially the characteristic when fitted with the ultra-efficient Rotrex Supercharger makes it a very well handling performance car at an affordable price.
The heavier four-wheel-drive version especially benefits from a more powerful engine. Whether rear-wheel-drive or four-wheel-drive the very linear power of the Rotrex boosted engine is very gentle to the hole drivetrain and an almost constant torque from low to high rpm makes the car easy to handle under all driving condition including reduced friction between tire and road.
Includes all the necessary brackets, and hardware for a simple bolt-on installation.
Pricing for supercharger and full kit
Hyundai Genesis Coupe 08-13: Starting from 5.900 USD
Hyundai Genesis Coupe 14-16: Starting from 5.500 USD