Lotus Elise/Exige (CTR) Supercharger Kits
Each Lotus Elise/Exige (CTR) supercharger system includes all necessary components to ensure safe, reliable operation. Our distributors have developed kits for the following models:
Model
HP ​
Lotus Elise/Exige (CTR) – Sport Kit
198 > 300
Lotus Elise/Exige (CTR) – Supersport Kit
198 > 380
Lotus Elise/Exige (CTR) – Race Kit
198 > 500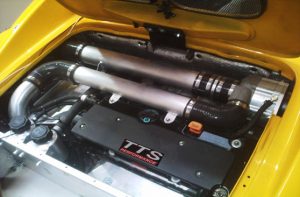 TS PERFORMANCE has developed this superb supercharger conversion to give you a 100% plus power gain and give you better drivability then the standard car.
This conversion enables the car to pull hard through its entire power band with no glitches or fuss, no throttle lag, just seamless power.​
This conversion requires very little maintenance. The chargecooler/prerad system enhances the performance by keeping the intake charge temperature at a less than 55 deg. C.
This conversion outperforms all other commercially available supercharger conversions on the market.
The modification can be undone at any time. No modifications are made to the car which cannot be reversed at a later stage.
CAUTION: Kit requires the use of fuel Super Plus Fuel ROZ98 (or higher quality).