Lotus Elise/Exige (Honda) Supercharger Kits
Each Lotus Elise/Exige (Honda) supercharger system includes all necessary components to ensure safe, reliable operation. Our distributors have developed kits for the following models:
Model
HP ​
Lotus Elise/Exige (Honda engine)
– > 350
Lotus Elise/Exige (Honda engine)
– > 500
Lotus Elise/Exige 330R (Honda Vtec)
220 > 330
Lotus Elise/Exige (Honda K20)
220 > 300
Lotus Elise/Exige (Honda K20)
220 > 380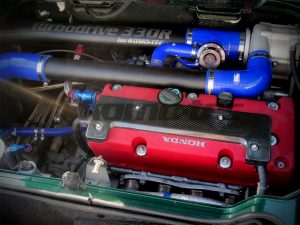 The Japanese motor sports version of the K20A 2.0 litre Honda engine, together with a close ratio 6-speed gear box and lsd, form the basis of our successful Elise 220R" concept.
The Honda engine already reaches approx 90% of the maximum torque at 3000 rpm and convinces through its spectacular power development up to just under 9000 rpm.
It builds a perfect unit in combination with the close ratio 6-speed gear box.
The forged pistons, perfectly balanced short engine and light steel fly wheel of the Japanese motor sports version guarantee high power output and torque even in its daily use.
The specific fitting requirements in the Lotus Elise, combined with a modified induction and exhaust system, necessitate the use of a freely programmable ECU. The high durability and constant performance of the concept are achieved through special motor mounts made from durable alloy, an innovative engine torque mount, drive shafts manufactured from Chrome Vanadium steel and special drivebearings.
The Stack display system, which has been well tested on the race track and is permissible on the road, displays rev up to 10000 rpm and informs the driver of the engine temperature and pressure. Unfortunatelly the JDM spec engines are not longer availeable as new. we use engines with low mileage of max 5000km
The concept is equally suitable for everyday use on the road as well as on the race track.
Of 175 tested vehicles by the "Auto Bild Test & Tuning" the Elise 220R achieved the eighth place, even ahead of cars such as the Ferrari 360-Evoluzione or the Lamborghini Gallardo.
TÜV registration not possible.
Power approx 230 hp at 7400 rpm
Torque approx 225 Nm at 3500rpm
Maximum rpm 8800
The modification can be undone at any time. No modifications are made to the car which cannot be reversed at a later stage.
CAUTION: Kit requires the use of fuel Super Plus Fuel ROZ98 (or higher quality).
The Lotus Elise/Exige (Honda) kits are offered by these kit builders:
Please contact them directly by interest. (Click logo to visit)
Modification consists of:
Engine gearbox conversion
Wiring loom
Freely mapable ECU
Stainless steel exhaust manifold
Airbox Carbon
Specially manufactured driveshafts made from high-quality steel
Driveshaft bearings in motor sports quality
Stack display ST 8130
Motor mount made from alloy
All hoses Samco/Aeroquip
Mapping of the ECU
Power curve from rolling road
The Phase 2 concept can be added to an already existing Phase 1, also include:
Engine-gearbox unit Honda K20
Reverie Airbox Carbon
Stack display ST 8130
Oil cooler
External oil filter adapter with oil filter
Water-cooled air intercooler with heat exchanger
Oil system charger