Subaru Trezia (NCP120X/125X) Supercharger Kits
The supercharger system provides instant progressive power.
Rotrex superchargers operate much cooler when compared to turbochargers and other supercharger systems, which reduces the engine's intake air temperature as well as its risk of detonation.
| | |
| --- | --- |
| ​HP | Charger |
| 107 > 144 | C15-60 |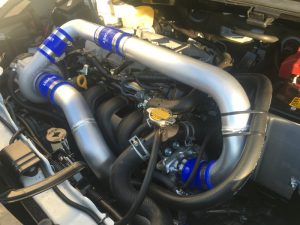 Achieves 146ps, which is about 40ps higher, using C15-60.
The light body and ROTREX match, and comfortable acceleration continues beautifully up to high revs. We have realized easy-to-use power without lag from city riding to the circuit.
A completely bolt-on vehicle inspection compatible
aluminum piping silicon hose is used to dress up and a lightweight
air impulse is used to reduce intake resistance.
Maintenance is only for oil change and filter change (oil change time: 2 years or 20,000 km)
40km/h-150km/h TIME


* Comparison result under the same conditions by our dynojet (Measurement condition 4th speed fixed accelerator opening 100%)



NORMAL
17.87 seconds

After installing ROTREX

14.85 seconds
* Output values ​​are catalog conversion values ​​by our Dyno Jet.
Precautions
■ Be sure to use high-octane gasoline.
■ Please use the engine oil for turbo (10W40 / 15W50)
■ The kit is for normal vehicles only.
If you are modifying it, you may need to process or reset it. Please contact the distributor before purchasing.
Part list
Charger body (C15-60)
Various S / C brackets
S / C pulley
Oil cooler
Ribbed pulley
P-Map (data installed)
W pulley
V-belt
S / C oil filter
Restrictor
Silicon hose
Traction oil
Oil hoses
Oil line
Pipes
Others: Bolts, nuts, collars, clips, nipples, adapters, various stays, various brackets, hose bands, etc.
The main body of the charge comes with a 2-year warranty.