Subaru Impreza Supercharger Kits
The supercharger system provides instant progressive power.
Rotrex superchargers operate much cooler when compared to turbochargers and other supercharger systems, which reduces the engine's intake air temperature as well as its risk of detonation.
| | |
| --- | --- |
| ​HP | Charger |
| – > 160 | C30-74 |
2000 – 2007 SOHC 2.0 litre Flat 4 cylinder Subaru Impreza.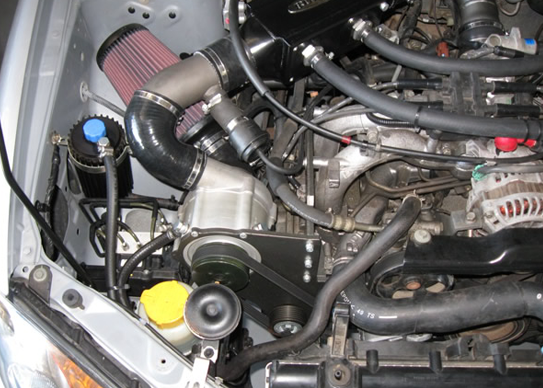 Developed and manufactured in house by Bullet Cars utilising the C30-74 Rotrex Supercharger, this kit will transform your standard non turbo Impreza into a WRX beating machine! This Intercooled kit produces more than 70% gain on a standard engine and over 100% power gains can be safely achieved with the fitment of a good exhaust system with extractors. The power delivery from the Rotrex Supercharger is extremely smooth and gives instantaneous boost without lag. With an OEM style installation this kit will suit the owner who is looking for a discreet performance upgrade.
Benefits
OEM high quality Installation with virtually silent Supercharger operation
Designed to suit an internally standard factory engine
Over 70% power increase on a standard engine with minimal boost pressure
Does not require fuel pump or injector upgrades
Parts Included
Rotrex C30-74 Supercharger @ 10psi
Rotrex Self contained Oiling system with Oil cooler
Bullet Supercharger CNC machined Mounting bracket with idler pulley setup
Bullet 5PK Ribbed drive belt
Bullet Aluminium Intake piping with silicon hoses and hose clamps
Bullet Auxiliary boost injector with mounting system
Bullet recirculating bypass valve
All high quality Fasteners and hoses required for Installation
Bullet high efficiency Water to Air Intercooler with front mounted radiator and high flow pump (Intercooled Kit only)
Please note: This kit must be fitted in conjunction with an engine management solution.
The Subaru Impreza kits are offered by this kit builders:
Please contact them directly by interest. (Click logo to visit)

Recommendations
XEDE piggyback ECU with 2 bar map sensor, dual map capability and base map installed
Ceramic coated extractors and high flow exhaust system
Custom Dyno tuning
JBT Brake Upgrade
Dyno Sheet