Toyota bB Supercharger Kits
The kit includes all the needed brackets, parts, and fasteners to allow a trouble free, no hassle installation.
Our distributors have developed kits for the following models:
| | |
| --- | --- |
| Model | HP ​ |
| Toyota bB (NCP31) | 109 > 140 |
| Toyota bB (1NZ-FE) | 109 > 140 |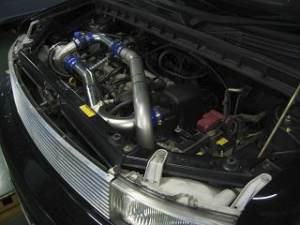 Torque UP / 31ps UP in the whole area!
Easy installation by complete bolt-on
No need for troublesome installation of exhaust manifolds, intake manifolds, etc.
No fuel adjustment required. (Fuel adjustment by the attached fuel regulator) Excellent quiet performance in the entire range from idle to high speed.
Adopts a turbo type that is optimal for supercharging air with a compressor shape
Smooth power / flat torque up to high rpm
・ Dress up using aluminum piping and silicon hose
・ Weight reduction
・ Maintenance is only oil change and filter change (oil change time: 2 years or 20,000 km)
Precautions
This product is a KIT exclusively for NCP31 & 1NZ-FE
The distributor are checking the fuel condition using a genuine air cleaner.
Processing at the time of installation
* Small processing of the fuel pump case is required when replacing the fuel regulator.
* 4 When installing on a WD vehicle, the attached fuel regulator cannot be installed, so fuel adjustment is required separately.
Be sure to use high-octane gasoline.
Please use the plug with the 7th heat value.
Use engine oil for turbo (10W40 / 15W50).
The Toyota bB kits are offered by this kit builder:
Please contact them directly by interest. (Click logo to visit)


(local customers from Japan only)
The kit includes:
Charger body
S/C bracket
S/C pulley
W pulley
Tensioner pulley
V-Belt
Fuel regulator
Oil cooler
Oil filter
Oil reserve tank
Silicon hose
Traction oil
Oil hose
Pipes
Others: Bolts, nuts, collars, clips, nipples, adapters, various stays, various brackets, hose bands, etc.