Toyota FJ Cruiser Supercharger Kits
URD has released the latest updated version of our advanced supercharger system for the FJ Cruiser. Our original supercharger kit debuted in the Toyota/TRD booth at the SEMA show in 2006.
Our distributors have developed kits for the following models:
| | |
| --- | --- |
| Model | HP ​ |
| Toyota FJ Cruiser (CNG Conversion) | 176 > 275 |
| Toyota FJ Cruiser | 176 > 315 |
| Toyota FJ Cruiser | 188 > 370 |
| Toyota FJ Cruiser | 217 > 274 |
| Toyota FJ Cruiser | 222 > 323 |
| Toyota FJ Cruiser (4.0 Dual-VVTi) | 272 > 380 |
| Toyota FJ Cruiser (GSJ15W) | 272 > – |
| Toyota FJ Cruiser (1GR 4.0L V6) | 236 > 354 |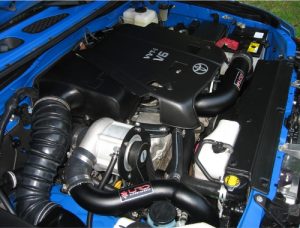 This updated version features a large air-to-air intercooler to cool the compressed air from the supercharger for greater power potential. The mounting of the intercooler is high in the grill area to make it more compatible with off road winch bumpers.
The most important improvement is a significant increase in power. Our development vehicle was a 2007 FJ Cruiser with a manual transmission. The manual transmission versions are permanent all wheel drive and can be locked in traditional 4 wheel drive for use off road. To dyno this vehicle we had to dyno it in 4 wheel drive using a 4 wheel drive DynoJet dyno. The stock vehicle dynoed at 188 Wheel Horse Power (RWHP). The basic kit, Stage I, put down 325 RWHP and the upgraded kit, Stage 2, dynoed at 370 RWHP, doubling the stock power output.
The key to producing this power level safely is in depth calibration work using highly advanced engine management and a properly configured fuel delivery system. For engine management the kit uses the UCON Flex Advanced Engine Management System that is self tuning with active dynamic air fuel ratio correction. The UCON also has engine protecting engine guardian features. If things start to go wrong the guardian features step in and depower the engine to protect it. If the air fuel ratio deviates from the programmed value and the dynamic active fuel control cannot correct it, the guardian will depower the engine to protect it. The guardian feature also steps in if the engine begins to overheat and we also program it to limit the maximum RPM until the engine is properly warmed up.
The fuel system includes a large 255 liter per hour fuel pump that is installed in the fuel tank and high flow fuel injectors that are more than twice the flow rate of the stock ones. These upgrades are required to ensure a sufficient supply of fuel is delivered to the engine as commanded by the UCON Advanced Engine Management System.
URD has chosen the highly efficient Rotrex C38-81 supercharger as the center of this revised supercharger system. The Rotrex is most advanced supercharger design on the market today. It features a small compact foot print with almost completely silent operation, with a very highly efficient traction roller drive system that will spin the turbo type impeller 7.5 times faster than the belt drive pulley is turned. This high step up ratio and small diameter turbo style impeller brings boost in sooner than other more common types of centrifugal superchargers. This gives you very nice off the line performance combined with unmatched top end power. The Rotrex Supercharger features it own self contained oiling system using Rotrex\' proprietary traction oil that is the key to the advanced traction drive system. Rotrex warranties their superchargers with an industry leading three year UNLIMITED mileage warranty.
The air intake system brings in cool air from the stock location in the fender wall and into URD\' custom high flow air filter box with a very large flat panel air filter for unrestricted flow into the supercharger. In our previous version, the only complaint was the system was not compatible with the popular off road snorkel systems. This oversight was corrected with the new Mark III version. You can easily adapt it to your favorite snorkel system, but you may have a reduction in peak power with the added restriction to the intake.
The overall operation of the supercharger system is nearly completely silent, but we have added a turbo style blow off valve will announce that your FJ is indeed boosted. When the throttle is suddenly closed when the engine is at high RPM like shifting gears with boost, the blow off valve will cycle with a very crisp note typical of high performance turbo systems. It is always a crowd pleaser!!
The kit includes all the needed brackets, parts, and fasteners to allow a trouble free, no hassle installation. We include high quality stainless fasteners and all the parts have a high quality wrinkle black powder coating finish that will last and looks fantastic. The piping is all mandrel bent high quality aluminum they fit like they are supposed to. Only the best in kit components are used.
Installation will require some trimming of plastic parts inside of the stock bumper assembly. We made every effort to make the system compatible with off road winch bumpers. We can\' guarantee compatibility with all bumpers on the market, but we did test fit it with the popular bumper from Demello Off-Road and a slight amount of trimming to the internal brackets was all that was needed for a perfect fit. No permanent modifications required to install this system and it can be easily removed when you decide to sell or trade your FJ Cruiser for a new one.
The Toyota FJ Cruiser kits are offered by these kit builders:

Please contact them directly by interest. (Click logo to visit)


NB! CAP/SE-Tuning: Local customers from China only!


NB! Power LLC: local customers from Japan only.
More power than any other supercharger system
Rotrex C38-81 Supercharger
Advanced Engine Management using UCON Flex by iTronix Technologies
Huge 61# fuel injectors and 255 LPH fuel pump
Silent Operation
Turbo style blow off valve
Large air-air intercooler
Outstanding fit and finish
Easy installation
Off road snorkel compatible
Off road winch bumper friendly
URD has been supercharging FJ Cruisers since 2006
URD was the first to develop a supercharger kit for the FJ
Rotrex C38-81 Supercharger w/80mm pulley
Self contained Rotrex oil system with large oil cooler
Custom length drive belt
Precision charge piping made from mandrel bent aluminum
URD 255 LPH fuel pump/filter kit
Denso IKH24 Iridium Power spark plugs
All stainless fasteners where possible
All silicone couplers with quality stainless liner clamps
HKS SSQV turbo style blow off valve
Drive belt idler pulley
URD supercharger mounting bracket
URD custom air filter box with large panel type filter
High volume 61# fuel injectors with adapter harnesses
Advanced engine management using UCON Flex self tuning engine management system
Exhaust cam timing gears
Very detailed installation instructions
The 4Runner and FJ Cruiser share the same engine, power train, and most of the frame is the same.  The below video is of an FJ Cruiser with our original Mk1 supercharger system and producing about 50 RWHP less than our current 4Runner Mk3 stage 1 kit.