Toyota Hilux Supercharger Kits
The kit includes all the needed brackets, parts, and fasteners to allow a trouble free, no hassle installation. The overall operation of the supercharger system is nearly completely silent. It is always a crowd pleaser!
Our distributors have developed kits for the following models:
| | |
| --- | --- |
| Model | HP ​ |
| Toyota Hilux (1GR 4.0L V6) | 176 > 275 |
| Toyota Hilux (2.7 VVTi 2TR) | 160 > 227 |
| Toyota Hilux 4.0 litre V6 (1GRFE) |  > +272 |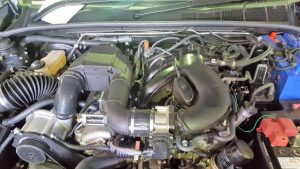 After having designed the world first positive displacement Supercharger kit back in 2005 when the 1GR-Fe engine was first released, Bullet is proud to release the first Rotrex Supercharged system for the Toyota Hilux, Tacoma and international 79 Series.
The Rotrex is the ONLY centrifugal Supercharger that is used as OEM factory fitment on a production car – the world speed record holder Koenigsegg CCX.
Developed and manufactured in house, the Toyota 1GR-Fe installation is an exciting OEM style kit.
Designed to suit an internally standard engine, the intercooled Bullet/Rotrex kit reliably increases power to over 200 kws at the wheels! This is a gain of over 50% and is achieved with only 8psi of boost pressure. The power delivery from the Rotrex Supercharger is extremely smooth and feels like a factory installation. With unmatched boost response and silent operation, it really does turn the 4L Toyota into an exciting well balanced sports truck!
Benefits
Latest in Centrifugal Supercharger technology – unmatched boost response
Virtually silent Supercharger running at idle and cruise – no gear noise or whine
Easier to fit than other Supercharger kits
Designed to give maximum power from a internally standard engine
Can be installed using the factory injectors and fuel pump
Kits to suit all budgets – comes in either DIY, Non-Intercooled or Intercooled
The Toyota Hilux kits are offered by these kit builders:

Please contact them directly by interest. (Click logo to visit)

NB! CAP/SE-Tuning: Local customers from China only!
Parts Included
C38 Rotrex Supercharger with internal Oil pump, oil reservoir, oil filter, oil lines and clamps, 1 litre of special traction oil and external Oil cooler
Supercharger mounting bracketry with unique dynamic tensioner system
Custom air to liquid Intercooler with front radiator and electric pump
Alloy Intake Piping with silicon hoses and clamps
High flow quality Air filter
High flow-bypassvalve
Auxiliary boost injector with custom mount
Drive belt, all hoses, and fasteners
Step by step installation instructions and fullphone/email support