Toyota Vellfire Supercharger kits
The kit includes all the needed brackets, parts, and fasteners to allow a trouble free, no hassle installation.
Our distributors have developed kits for the following models:
| | |
| --- | --- |
| Model | HP ​ |
| Toyota Vellfire | 132 > 175  |
| Toyota Vellfire (ANH20W) | 170 > 190 |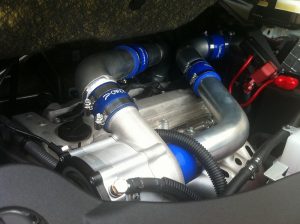 Using C30-64, you can easily achieve 200ps, which is 30ps up with normal control. The powerful torque increase, which is 18% higher than the normal , greatly improves the accelerator response.
We have realized a comfortable run with the power of 3000cc class for vehicles over 2t.
Powering up in almost the entire area, a pleasant acceleration that matches the CVT continues until high rpm.
Bolt-on vehicle inspection compatible genuine air cleaner provides excellent quiet performance in all areas from idle to high speed.
Aluminum piping and silicon hose are used to reduce weight while dressing up.
Maintenance is only oil change and filter change (oil change time: 2 years or 20,000 km)
Precautions
This product is a KIT exclusively for VELLFIRE 2400 (CVT).
(3500cc cannot be installed.) When ordering, please check the vehicle model before ordering.
Be sure to use high-octane gasoline.
Please use the engine oil for turbo (10W40 / 15W50)
The kit is for normal vehicles only. If you are modifying it, you may need to process or reset it. Please contact us before purchasing.
The Toyota Vellfire kits are offered by this kit builder:
Please contact them directly by interest. (Click logo to visit)


(local customers from Japan only)
Part list:
Charger body (C30-64)
Various S / C brackets
S / C pulley
Oil cooler Ribbed pulley
Pipes
W pulley
V-belt
S / C oil filter
Restrictor
Silicon hose
Traction oil
Oil hoses
Oil line Pipes
Others: Bolts, nuts, collars, clips, nipples, adapters, various stays, various brackets, hose bands, etc.