Toyota Vitz/Yaris supercharger kits
| | |
| --- | --- |
| ​Model | HP |
| Toyota Vitz NCP91 | 110 > 150 |
| Toyota Vitz NCP131 | 109 > 146 |
| Toyota Yaris 7A-FE | |
| Toyota Yaris 4ZR-FE | |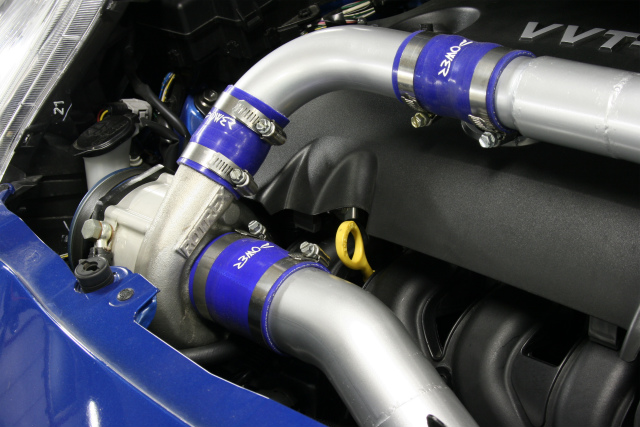 Using C15-60, it achieves 146ps, which is about 40ps up. It's more RS-like, and the light body and ROTREX match, and comfortable acceleration continues beautifully up to high rpm. It realizes easy-to-use power without lag from city riding to the circuit.
A completely bolt-on vehicle inspection compatible aluminum piping silicon hose is used to dress up and
a lightweight air impulse is used to reduce intake resistance. Maintenance is only for oil change and filter change (oil change time: 2 years or 20,000 km)
・ Compatible with vehicle inspections
・ Easy installation by complete bolt-on
* No need for troublesome installation of exhaust manifolds, intake manifolds, etc.
* Fuel adjustment uses the attached injector ・ P-con A (data installed)
・ Intake resistance by using Air Impulse II Uses a turbo type that is ideal for supercharging air with
excellent quietness performance in the entire range from idle to high speed. * Smooth power  / flat torque up to high rpm , aluminum piping, silicon hose For dress-up, weight reduction , and maintenance, only oil change and filter change (oil change time: 2 years or 20,000 km)
The Toyota Vitz/Yaris kits are offered by this kit builder:
Please contact them directly by interest. (Click logo to visit)


NB! Power LLC.: local customers from Japan only.

Partlist:
Charger body (C15-60)
Various S / C brackets
S / C pulley
Oil cooler
Ribbed pulley
P-Map (data installed)
W pulley
V-belt
S / C oil filter
Restrictor
Silicon hose
Traction oil
Oil hoses
Oil line
Pipes
Others: Bolts, nuts, collars, clips, nipples, adapters, various stays, various brackets, hose bands, etc.
The main body of the charge comes with a 2-year warranty.