Fuel Cell Compressors
Rotrex was one of the pioneers in the development of air compressors for fuel cell systems. Close corporation with some of largest fuel cell producers has resulted in class leading compressors designed to boost the next generation of fuel cell systems.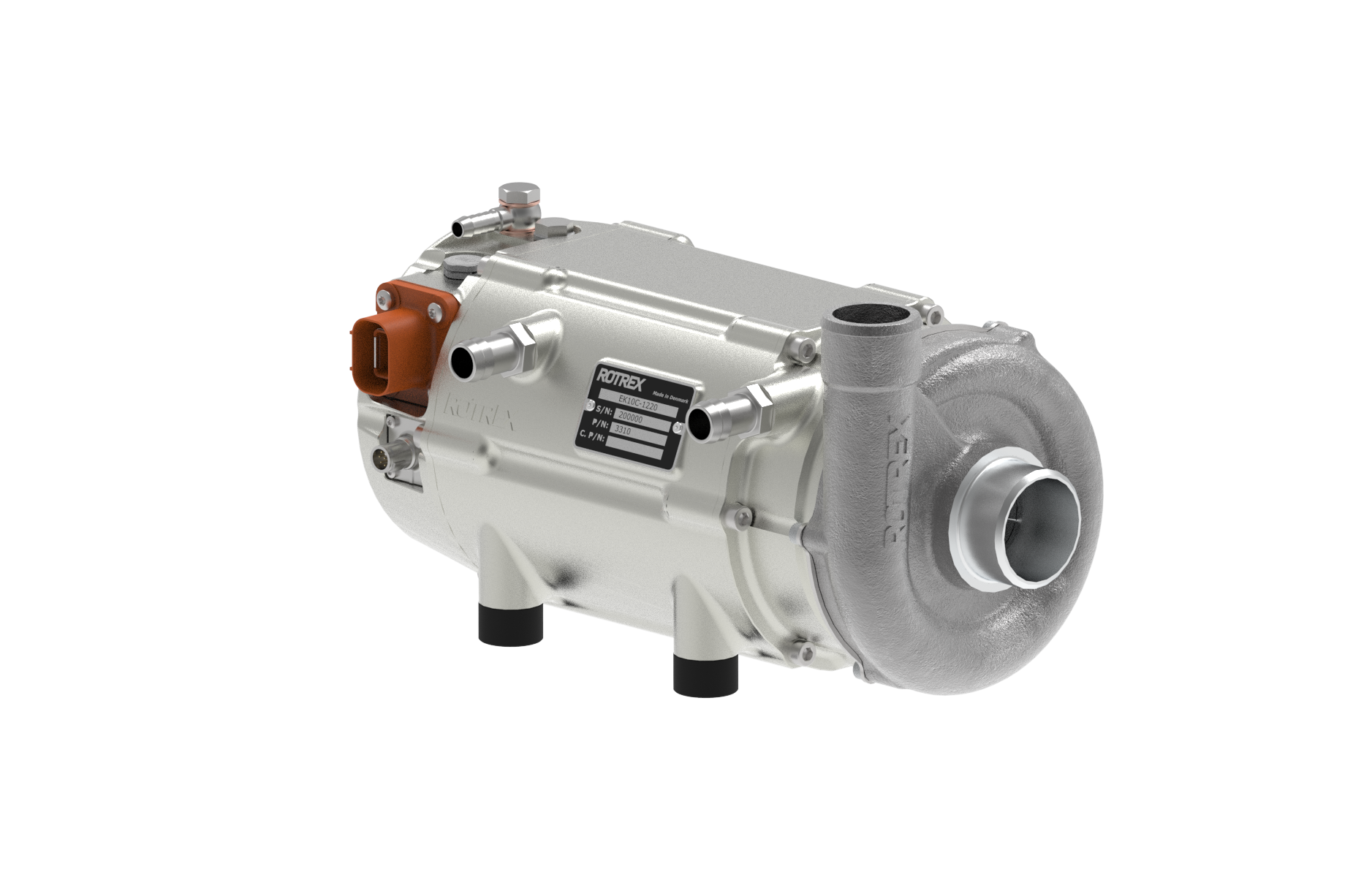 The technology and key benefits
The compressor is a combination of a low speed PMSM motor, coupled directly together with the patented Rotrex traction drive spinning a high efficient centrifugal compressor. The result is a class leading air compressor, that offers unmatched reliability.
The compressor concept is scaleable and whilst the first developed EK10AA compressor is designed for fuel cell systems up to 100kW, we will soon be introducing a compressor designed for systems up to 400kW.
Key benefits
Clean Oil-free, linear and non-pulsing air supply
Ultra-compact, lightweight and flexible integration
Automotive design – high resistance to shock/impacts
Class-leading efficiency
Unmatched reliability due to low speed motor concept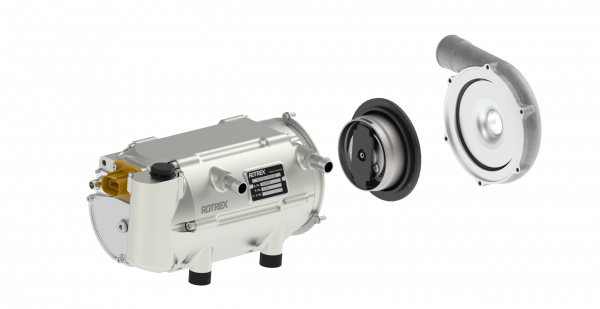 Are you interested in more information ? Please contact us at contact@rotrex.com or use the form below
EK10AA Specifications
Below you can find specifications for our EK10AA compressor which is designed for fuel cell systems up to 100kW. We will soon be introducing a compressor designed for systems up to 400kW. Please contact us for more information about this.
For full specification sheet, please contact us at support@rotrex.com
Characteristic
EK10AA-PT54
EK10AA-PT57*
Recommended air mass flow range
0,025 – 0,080 kg/s
0,060—0,110 kg/s
Recommended pressure ratio range (**)
1,4 – 2,2
1,4 — 2,0
Physical dimensions
(LxHxW) 321 x 155 x 188 mm
Weight (operational)
≈ 13 kg
Internal drive ratio
1 : 8.44
Maximum motor shaft speed
16.600 RPM
Maximum impeller speed
140.000 RPM
Rated motor power
13 kW
Enclosure rating
IP67 minimum
(*) For possible operation with PT57, please contact us for more information (support@rotrex.com).
(**) With current impeller design. Dedicated impeller design is possible to match customer requirements.
Compressor maps - EK10AA
Dedicated impeller geometries for maximization of aerodynamic efficiency. Compressor maps are created on our own in-house SAE flow rigs.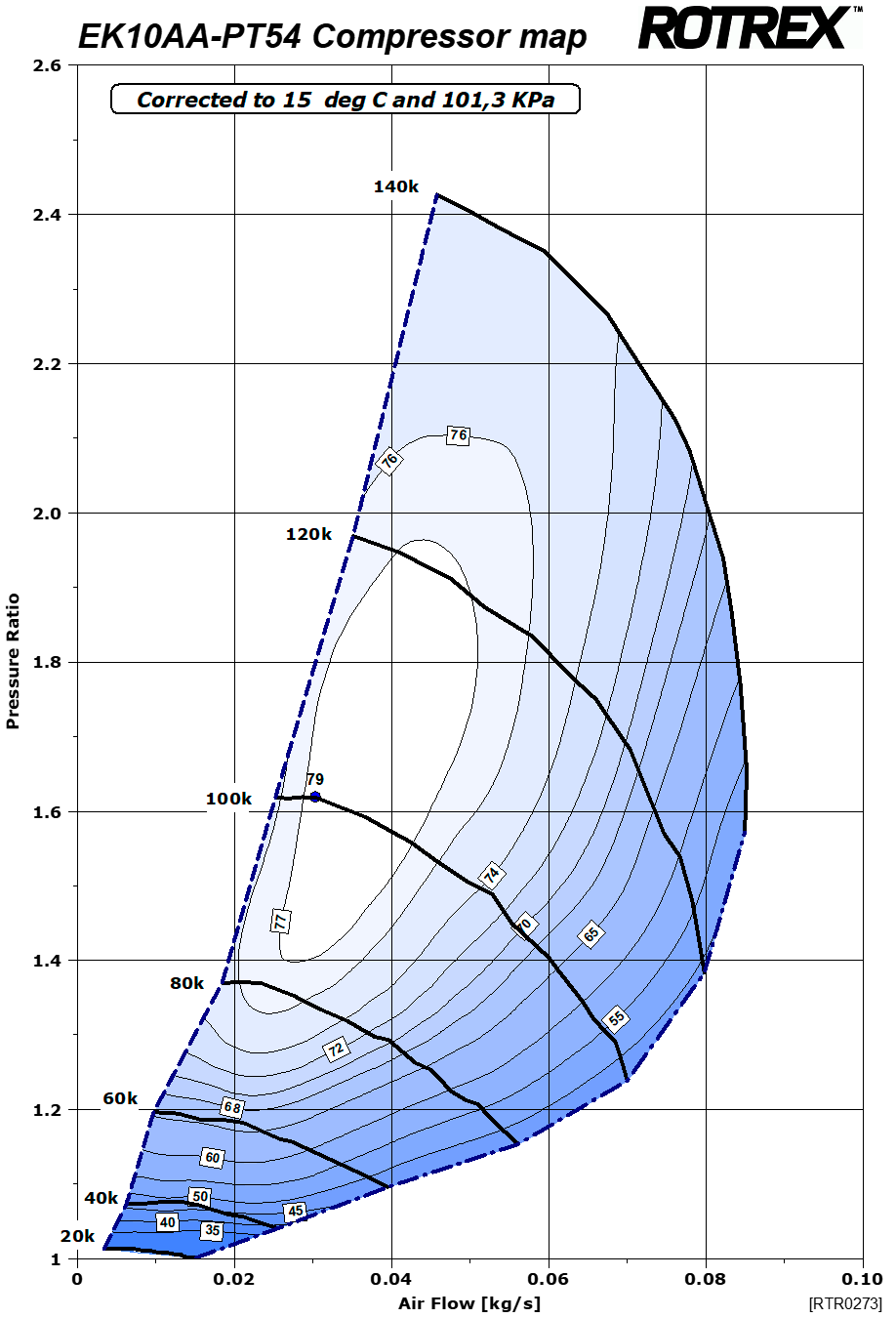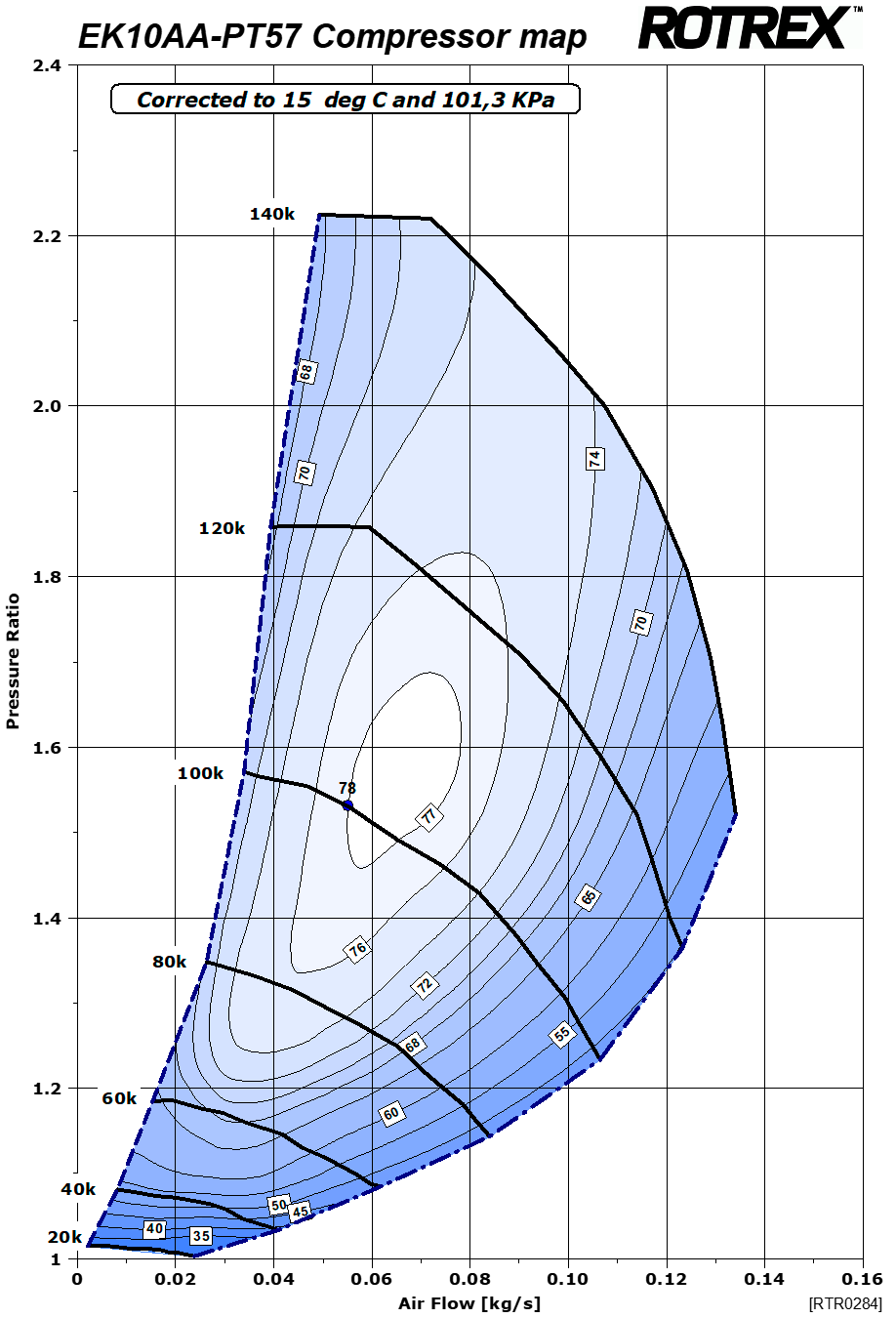 Maintenance
The EK10AA is designed for a system life of 20.000 Hours, with preventive maintenance each 5.000 Hours*.
Maintenance procedures should be able to be performed quick and safely, ensuring lowest possible downtime of the Fuel Cell. Therefore, through almost a decade of experience with the Fuel Cell industry, we have incorporated into the design, the most simple maintenance procedure to date.
*Application dependant.
Why Rotrex and Fuel Cells?
Rotrex has existed for more than 20 years and develops, produces and markets centrifugal superchargers for a wide range of industries based on patented traction technology for OEM, OES, and aftermarket companies worldwide.
For the past decade, fuel cell applications has been part of our business, with references to the majority of global Fuel Cell companies.
Please send us an email if you want to know more: support@rotrex.com